Day-Trip with Husky at Trasti & Trine
Date: Tuesday 16 feb 2021 - Thursday 15 Apr 2021
Show map

At Trasti & Trine you play an active part in getting ready your own dog team. We provide all necessary instructions. We set off from our kennel, drive through the forest, along the Alta River and gladly up in the mountains. We serve a hot lunch around an open
On our tours, you are actively involved during the entire trip, from the moment you arrive until the moment you leave. When you have changed into the warm winter clothes, we provide brief and precise instructions about how to drive a dog sled. We also explain and show you how to harness your dogs.
You will be given a list of the names of the dogs that will be in your dog team, and then it's time to get started. The harnesses hang in fixed places. Each dog has its own kennel with its name on it. That makes it easy to find the right dog and you can do most of the tasks yourself. Of course, we are here at all times and are happy to assist you as required.
When the dog team is ready, we pull up the snow hook and head out into the forest. It's time to enjoy the dogs, weather and nature. We drive in the forest, on the river and maybe up in the mountains. You play a part in deciding how many kilometres we drive.
We stop en route and enjoy a hot lunch around an open fire. There will be plenty of time to ask all the questions that are on your mind and we also have a few stories to share with you.
Safely back at the kennel, we remove the harnesses from the dogs and return the dogs to their respective kennels and hang up the harnesses.
This tour is ideal for those who enjoy being outdoors and are keen to try dog sledding. You can try being a genuine musher for a day!
We pick you up at one of our meeting points in Alta and drop you off afterwards. We provide warm thermal suits, mittens, hats and winter boots. Remember to bring your own warm woollen or fleece underwear.
Transport and lunch are included in the tour price.
Welcome to a day as a musher!
Show more
Book now - choose start date and product
Motel and Guesthouse
Distance: 9.4 km
New housing units in the forest, high standard double rooms in unique buildings with large windows and great views to the forest. The rooms have a hallway, kitchen counter with kettle and sink, bathroom and living room on two floors.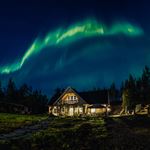 Motel and Guesthouse
Distance: 9.4 km
We have two spacious family rooms for rent, for in total 6 - 8 persons, the rooms have separate bathroom, this is a nice dining room and a cozy bed & breakfast. We serve organic and homemade breakfast and both fine dining and country style dinner.
Hotel
Distance: 9.4 km
Stengelsegården is one of three fish lodges located along the Alta River, and the only one with road access. This lodge is located about 500 meters from the kennel and the rest of Trasti & Trine.