Family adventure - Trasti & Trine
Date: Tuesday 16 feb 2021 - Thursday 15 Apr 2021
Show map
Dog sledding adventure for the whole family! We run dog sledding trips to Alta's best tobogganing hill. It's fun for young and old alike! We serve a homemade lunch around an open fire. We offer trips every day at 11 am.
Join us on a special trip for young and old who want to explore the winter forest together. After an introduction about how to operate the sled, we go into the dog yard, where you will be greeted by many happy Alaskan huskies. They are used to being visited by guests of all ages, and have been handled ever since they were young puppies. You are involved in preparing the dog team. We use a big sled together. We also have special children's sleds, which older children can drive if they prefer. When everything is ready, the dogs will be eager to set off. We open the gate and set off into the forest. We can enjoy the peace and tranquillity, the enthusiastic dogs and the majestic nature. After around half an hour's dog sledding, we will arrive at one of Alta's best tobogganing slopes. This is great fun for young and old alike! We serve a delicious homemade lunch around an open fire.

We pick you up from one of our collection points in Alta and drop you back there after the trip. You will receive warm winter clothing on arrival. We have snowmobile suits, mittens, hats and winter boots. We recommend you wear warm woollen or fleece underwear.

Duration: 3 hours.
Show more
Book now - choose start date and product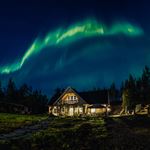 Motel and Guesthouse
Distance: 8.4 km
We have two spacious family rooms for rent, for in total 6 - 8 persons, the rooms have separate bathroom, this is a nice dining room and a cozy bed & breakfast. We serve organic and homemade breakfast and both fine dining and country style dinner.
Motel and Guesthouse
Distance: 8.4 km
New housing units in the forest, high standard double rooms in unique buildings with large windows and great views to the forest. The rooms have a hallway, kitchen counter with kettle and sink, bathroom and living room on two floors.
Hotel
Distance: 8.5 km
Stengelsegården is one of three fish lodges located along the Alta River, and the only one with road access. This lodge is located about 500 meters from the kennel and the rest of Trasti & Trine.