4-days trip dog sledding / Trasti & Trine
Address: Gargiaveien 29, 9518 Alta
Show map
Address: Gargiaveien 29, 9518 Alta

Are you looking for a new challenge? Do you feel this is something you want to experience or perhaps you have experienced dog sledding before and are now ready for a longer trip.Some people will find this trip more like a short expedition.
Dates for 2021:
2 -5 Apr
8 - 11 Apr
Price: 12 900,-

Day 1:
You will be picked up at your accommodation at 9am. If you made use of our accommodation option, it is just a short stroll after breakfast to the kennel where our eager Alaskan huskies are waiting.
After we have briefed you on all the safety routines and provided brief instructions, we are ready to pack the sleds and harness the dogs.
On the first part of the trip, we spend a lot of time ascending towards the Finnmarksvidda Mountain Plain and our first mountain lodge, Jotka Fjellstue. We make a stop en route and enjoy lunch outside around an open fire.
On arrival at the mountain lodge, we attend to the dogs first. We stable them on long chains and give them a small snack as a reward for today's trip. A bit later it is time to serve them their dinner before we enjoy our dinner and relax after today's leg.
There is time for a chat and a few stories before going to bed.

Day 2:
After the dogs have had their breakfast, it's time for our breakfast. We prepare a packed lunch and fill our thermoses before we get the sleds and dogs ready. Today's leg is just over 30 km in mountain terrain, over frozen lakes and in gentle valleys with white birch. We arrive at the mountain, Suosjavrre Fjellstue, in the late afternoon.

Day 3:
We leave Suosjavrre and we drive on the river and in the woods up to Mollisjok.
We cross over Lake Iesjavre, the biggest lake in Finnmark, on the way back to Jotka, the same mountain lodge as we stayed in on the first night. Now we are back in the open mountain terrain. Today's leg is approx. 50 km.

Day 4:
On the final day, we retrace the same route as on day one, the difference being this time we descend. There are many challenges descending the steep hills. If the weather is favourable, we will take a detour and drive up to the edge of Sautso for a spectacular view of Northern Europe's largest canyon and the Alta River.
The tour ends back at the kennel in the late afternoon, conditions permitting.

Please refer to the tour programme, equipment list and our guarantee.
The tour price includes: hire of warm thermal suit, winter boots and mittens, accommodation, meals, sled, dogs and guide, as outlined in the tour programme.

The tour price excludes: flights, pre and post tour accommodation and meals, and any alcoholic beverages.
We can arrange pre and post tour accommodation in unique conditions at –Trasti & Trine. Please contact us for further information and a quote.
Show more
Motel and Guesthouse
Distance: 17 meters
New housing units in the forest, high standard double rooms in unique buildings with large windows and great views to the forest. The rooms have a hallway, kitchen counter with kettle and sink, bathroom and living room on two floors.
Motel and Guesthouse
Distance: 7 meters
We have two spacious family rooms for rent, for in total 6 - 8 persons, the rooms have separate bathroom, this is a nice dining room and a cozy bed & breakfast. We serve organic and homemade breakfast and both fine dining and country style dinner.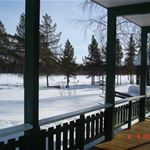 Hotel
Distance: 467 meters
Stengelsegården is one of three fish lodges located along the Alta River, and the only one with road access. This lodge is located about 500 meters from the kennel and the rest of Trasti & Trine.